The Prague public transportation system is quite comfortable and cheap. There are several kinds of pricings available to satisfy your needs - you can either buy single tickets with 1 hour validity (1:30 in the night and on weekends), or a daily or weekly ticket. The tickets have to be marked in the marking device when entering the bus, streetcar or the paid area of the subway. Sometimes, especially in the night, it may be more comfortable using a taxi, but at normal prices it is about ten times more expensive than the public transport (for single person) and it is commonly believed that some taxi drivers are cheating, having the tourists as the easiest target.
Timetable of the Prague Public transport - can find the connection between any Bus/Tram/Metro stations
How to get from Ruzyně Airport: Bus No. 119 is available from early morning till midnight. It will take you to Dejvicka station, where you can get to the subway and then continue to the city center. Masarykova kolej, where you will be accomodated, is also situated very close to Dejvická station.
A detailed bus schedule is available here:
---
How to get in bus at the Ruzyně Airport: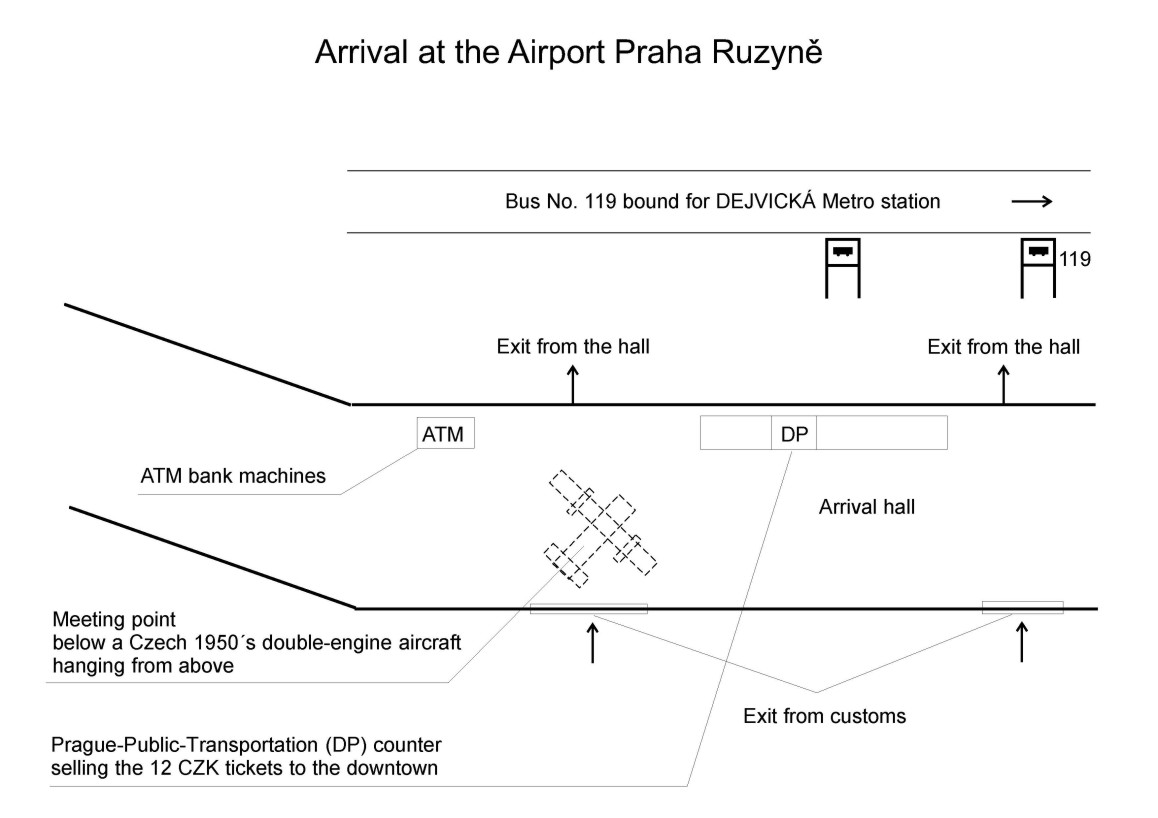 Airport Terminal 1 exit (Terminal 2 is similar)
Full size:
JPEG
,
PS
How to get off bus and to the Masarykova kolej accommodation: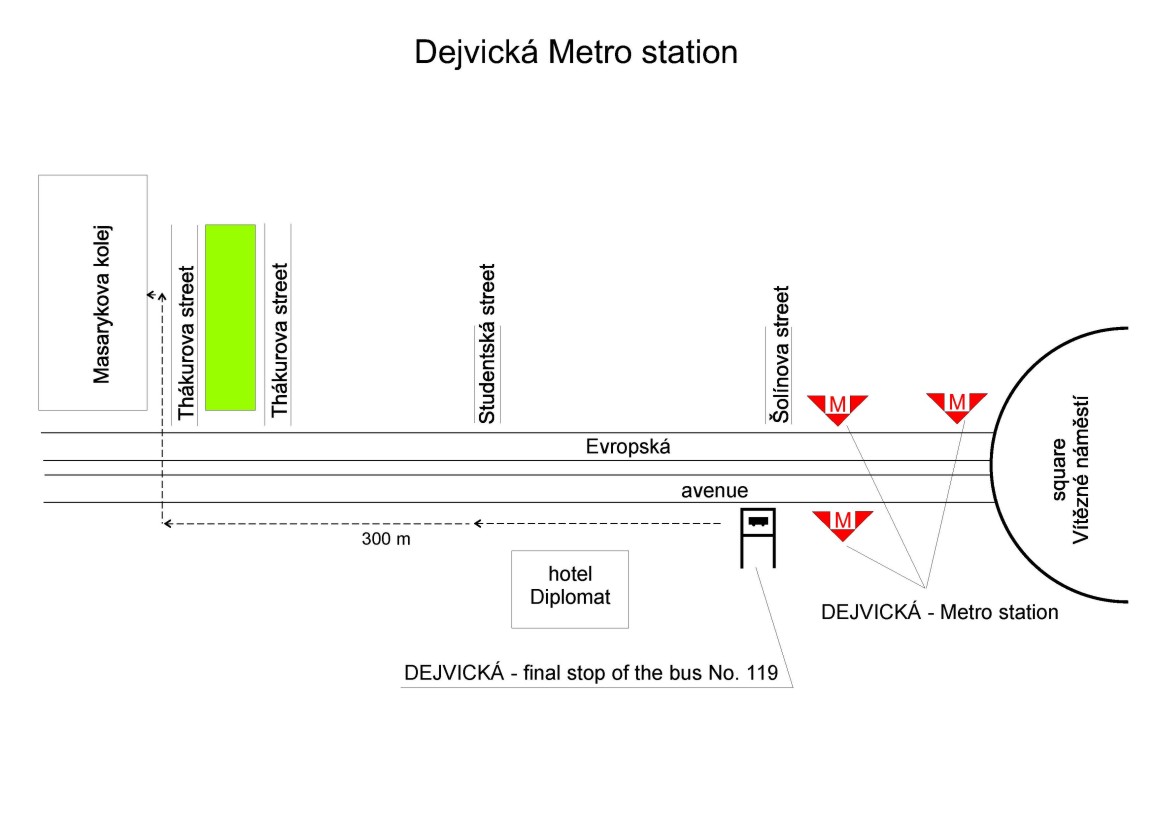 Neighbourhood of Dejvická station
Full size:
JPEG
,
PS
How to get to the Krystal hotel accommodation:
Take the bus No. 119 from the airport, get off at the Divoká ©árka stop (7th from the airport), change to the trams No. 20 or 26, go to the stop Nad Dľbánem, get off and follow the plan: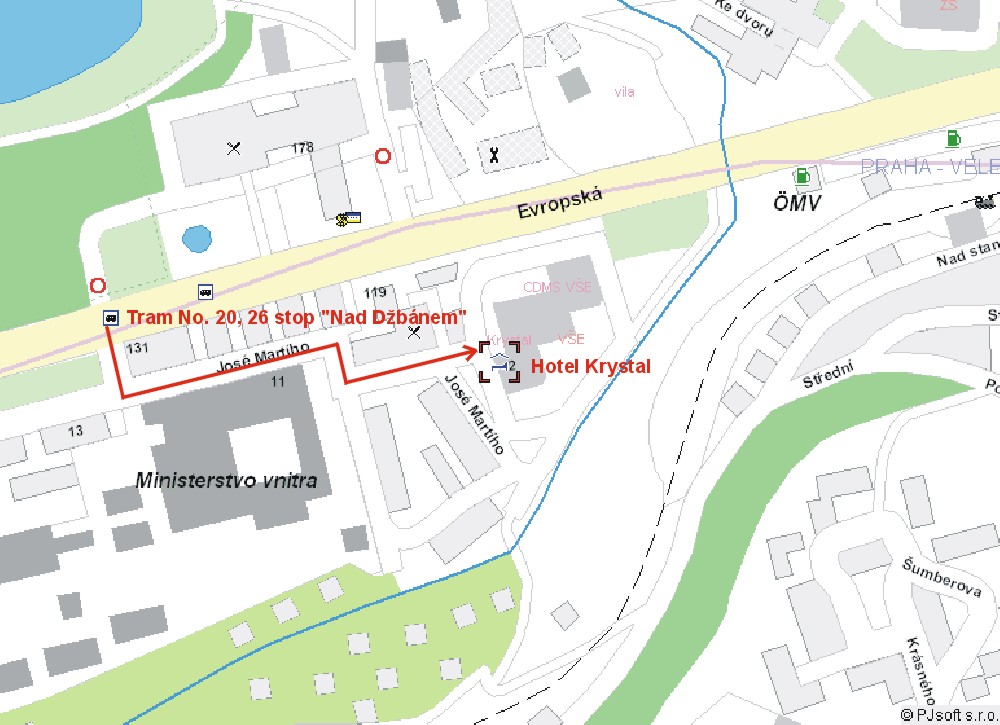 Hotel Krystal
Full size:
JPEG
How to get to the seminar venue from Dejvická: Take the Metro Line A (red color) at the Dejvická station, go to the Můstek station, change to the Line B (yellow color) and go to the Karlovo náměstí station. Get off the Metro and follow the plan:
How to get to the seminar venue from Krystal: Take the tram No. 20 or 26, go to the Dejvická stop (8th from Nad Dľbánem). Take the Metro Line A (red color) at the Dejvická station, go to the Můstek station, change to the Line B (yellow color) and go to the Karlovo náměstí station. Get off the Metro and follow the plan:
How to find the seminar rooms: Follow the plan: